SEPATEC Courses

---
Focused training for a career in propane
If the idea of going back to school for a new career has you hesitating, Southeast Propane Alliance Technical Education Center has some reassurance for you.
SEPATEC is about training you for a career in the propane industry. That's it. You don't have to take unnecessary classes like a foreign language, history or literature.
Instead, our training is designed to give you what you need to start your propane career, and grow your skills to advance your propane career.
SEPATEC students are engaged in gaining the knowledge and skills for working with propane, both in stimulating and interesting discussions in the classroom and through intensive lab work that gives you hands-on experience.
Training at SEPATEC isn't just for newcomers to the propane industry. Our CETP course is designed to help you get the certification that will help you start or advance in the propane business. And taking our individual courses gives you the opportunity polish up your skills and provides what you need to move up in your career.
Whether you take the full CETP course or take individual courses, you're going to learn from propane industry leaders based right here in North Carolina. These experts know what you need to learn and how to help you reach your goals. They also understand the needs of propane business owners when it comes to the employees they're looking for, and the propane customers you'll be serving in your new career.
You won't be lost in a large classroom. We keep enrollment in each course and class at 12 students, which means you'll get personal attention and answers to your questions.
Courses and classes are offered quarterly, with fall, winter, spring and summer sessions.
What you will learn
Here are the basics of what you'll get in the CETP at SEPATEC.
An understanding of how fuel gases work, including their physical, chemical and combustion properties
Training in the sizing and installing of house piping and placing propane gas-operated equipment
Detailed instruction in the proper design, placement and installation of propane systems and appliances
Get started on a new career in propane. Go to the SEPATEC registration site and enroll!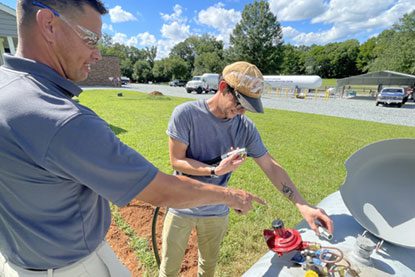 CETP course
The CETP course is a comprehensive, eight-week course covering all the bases when it comes to working in propane. It's designed to prepare you for CETP certification from the National Propane Gas Association.
We'll take you from the science of propane to basics on working with propane and then on to specialties like propane delivery, plant operations and propane system installations.
With the knowledge and skills you gain from this training, combined with the experience you may bring to the table through military service or other work, you'll graduate ready to join the growing propane industry!
CETP classes
At SEPATEC, we cover all the bases. You'll take classes from propane industry experts, and those classes are focused on propane and how to perform a variety of jobs in the industry.
These are the classes that make up the CETP course:
Basic Principles and Practices of Propane (24 hours)
This is your introduction to propane and is a prerequisite to the more advanced classes. You'll learn about the physical and combustion properties of propane, how propane is produced and transported, the organizations that are involved in industry codes and standards, what is done at a bulk propane plant, safety concerns and practices, and best practices in customer service.
Bobtail Delivery Operations (35 hours)
This course covers the ins and outs of driving a commercial vehicle to deliver propane. Among the topics covered are bobtail equipment and systems, such as the cargo tank, gauges, valves, pumps, meters, delivery hoses and emergency equipment. The focus is the process of safe and professional propane transport and delivery.
Cylinder-Delivery Operations (12 hours)
Another part of propane delivery is delivering propane cylinders. This course covers commercial motor vehicle licensing and driving requirements and standards, best practices for safety, how propane cylinders work, and how to safely and properly delivery propane to homes and businesses.
Basic Plant Operations (84 hours)
One area of working in propane involves propane bulk plant. In this course, you'll learn about responsibilities such as inspecting and filling DOT cylinders and ASME tanks at the plant, re-qualifying DOT cylinders, maintenance of cylinder and tanks, bulk plant equipment systems, and cargo tank product transfers.
Designing and Installing Exterior Vapor-Distribution System (84 hours)
Learn about designing and installing the exterior portions of a vapor distribution system for both residential and small commercial use. Our expert instructors will teach you about how to properly determine an effective system load, selecting and installing the right size container and putting it in the right place, choosing and installing pipe tubing, installing vapor meters, and other special installation practices.
Placing Vapor-Distribution Systems and Appliances into Operation (84 hours)
With a vapor distribution in place, the next step is bringing it into operation. Our instructors will walk you through that process, including system tests for the vapor distribution systems and appliances, validating the container as well as the piping and regulator, making the final connections, purging the system of air, and understanding appliance controls, safety devices, and adjusting the burner.
Be a part of a growing industry that offers stability as well as opportunity. Contact SEPATEC today to get started!