Stand Out In Your Job Search!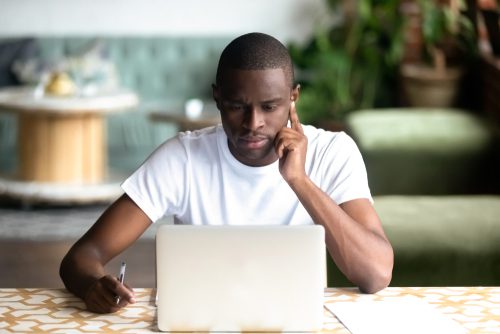 You've had to do a lot of things in your military career. There were things you didn't know if you could do, but you did.
One thing you have not had to do is write a resumé.
Now that you are separating from military service, you're facing new challenges and writing a resumé is one of them as you look to build a career in your civilian life.
Something else that can help you build a civilian career: quality training like what you receive at NC-TEC. We help people like you find careers in the propane industry, where you can move up the ladder in a stable industry with lots of growth potential.
We've put together some tips that you can use to craft a resumé that helps you stand out from other applicants.
Think Strategically
This is one area where your mission-focused training and work come into play and can give you an advantage.
Each job application is its own mission. A common mistake so many people make when job-hunting is that they use one resumé for all of them. Use your tactical thinking here. Look over the job posting. Create a resumé specifically targeted to that job, prioritizing what that employer is seeking, from a career objective at the top of your resumé to which skills you highlight.
Be tactical when applying for jobs. It's better to spend your time carefully applying for a few jobs you are qualified for and interested in rather than applying for a lot of jobs and not taking the time to make sure they're the right fit for you and your resumé is right for the position.
Many employers use job application programs that screen for keywords and key phrases. Read and re-read the job listing and use the words and phrases they use to describe the position and what they are looking for in your resumé where applicable.
In addition to a Word document, you should also create a plain text file of your resume to use when online job applications want you to upload your job history as well as upload your resume. This makes online applications faster and easier.
Check Your Language
The military has a language all its own, with jargon, acronyms, and how things are described. Most employers in the civilian world do not speak this language. If you write your resumé in military-speak, they're not going to know what you mean.
As you write your resumé, ask yourself or someone you know in civilian life how your experience, training, or skillset would be described in civilian-speak.
Promote Yourself
Your resumé isn't just a list of things you have done. It's an advertisement for you.
Toot your own horn. Show how your military experience will translate into you being an outstanding employee for them. You have what job recruiters call transferable skills, meaning the skills you developed in the service will be valued in the civilian world. Those skills include:
problem-solving
leadership
teamwork
focus on mission
commitment to service
Don't forget to list all training and education you have, as well as decoration and honors you have received, and any volunteer service you have been involved in.
This is where you can gain an edge against others applying for this job, so grab the opportunity!
How Does It Look?
Your resumé is the first thing many employers will see of you. Take advantage of the opportunity to make a good impression. There are many resume templates available online and in programs like Microsoft Word. Some things to keep in mind as you compose your resume:
Use clear, easy-to-read fonts like Arial, Calibri, Helvetica, or Garamond
If you are sending a printed resumé, use white paper to make it easier for them to read and scan
Use bold type, italics, headers, and font size consistently to highlight important skills and experiences
Take A Second, Third, And Fourth Look
When it comes to proofreading your resumé spell-check is not enough. It doesn't always spot mistakes or inaccuracies, or just bad descriptions. Print out your resumé. Read it out loud slowly, one sentence or bullet point at a time. Make sure spelling and punctuation are correct, that you use features like bold type or italics consistently throughout, and that what you wrote accurately conveys what you want to say. Also, get someone else to read it. A civilian friend would be a good idea here, as they may catch excess jargon or something else that could trip you up.
Looking for training that will give you a competitive edge? Contact NC-TEC today to learn more about how we can help you start a career in propane!