Preparation and practice are key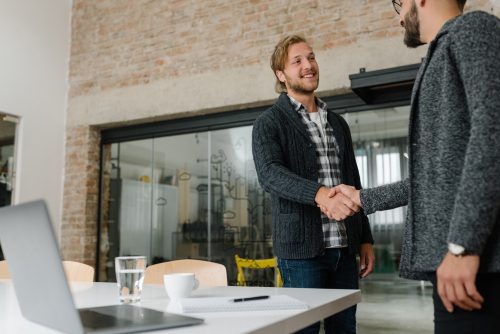 Job fairs, also called career fairs, can play a critical role as you transition from your military career to the civilian working world.
Yes, they give you a chance to meet potential employers. But they are also an outstanding opportunity to meet fellow jobseekers, both civilians and fellow separating military members. You can learn from each other, compare notes, and trade tips and insights about your job hunts.
Local propane companies in your area are often at job fairs, seeking employees for positions such as delivery drivers. With the training you get at NC-TEC's Certified Employee Training Program (CETP), you'll have the knowledge and skills that will make you stand out from others vying for those jobs.
There's more to a successful job fair than putting on a suit and showing up with a folder of resumés. You need to be prepared so you can make meaningful connections that can advance your job search and career path.
Do your research
The first thing to do when you find out about a job fair is to check out what businesses will be there, if there are any guest speakers or workshops that might be good for you to attend, and who is sponsoring the event. Knowing this information in advance helps you from being overwhelmed when you go there.
Investigate the businesses that will be attending. Learn about their history, mission statement and core values, goals, and current job postings. See if they have a history of hiring veterans. Take notes on each and bring them with you to review before you approach them at the job fair.
Practice your presentation
You only get one chance to make a first impression. Preparing for and practicing how you will present yourself goes a long way towards making a good one.
Decide how you want to present yourself to each potential employer. Some may be looking for someone to start right away, so if that's you, make sure they know it.
Tailor the discussion of your military experience to each potential employer. This is where your research comes in handy. Businesses that describe their environment as "collaborative" will appreciate your experience in working as a team. Businesses that emphasize organization and responsibility will be drawn to your discipline.
Make sure that the clothes you plan to wear to the job fair are clean, pressed, and have no rips or loose buttons. Polish your shoes (wear comfortable ones, as you'll likely be doing a lot of standing and walking).
The night before the job fair, lay out your outfit down to undergarments. Have your resumés and notes ready nearby so you don't forget them. Get up early so you have time to shower and groom without feeling rushed.
Carve out enough time in your schedule for the job fair so you don't have to rush. Once you enter the job fair, turn off your phone or mute it to prevent distractions.
Follow up
Take business cards from each employer you talk with, as well as anyone you network with. Step aside to make notes.
Once you're home, send personal thank-you emails to each employer you met with. Attach a copy of your resume and include a link to your LinkedIn page. Invite other jobseekers you met to connect on LinkedIn. Go on LinkedIn and follow any companies that interested you.
Contact us to learn more about our CETP course and all the ways NC-TEC can help you launch a successful career in propane!